Looking For A CPA Firm You Can Build A Long Term Relationship With?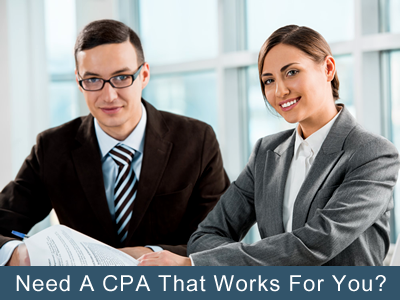 Choosing an accountant to work with is a lot like choosing a dentist to visit when you need dental work done. Different CPAs have different mannerisms and approaches to their work, and this can make choosing the right one for you an interesting experience. We recommend that you approach working with a CPA much like you would when it comes to looking for a new job. Interview each firm that you go to with the intent of discovering whether or not both of you can be happy working together and if this is the place you think you will be happiest. If you can find a CPA firm that makes you feel comfortable and makes you believe that your finances will prosper, then there is a good chance that is the right firm for you.
Many CPAs are strict about keeping appointments scheduled and we are a little more lax. We welcome all to come to our office, and if we are unavailable we will schedule you in, because we know that if you are coming to us you need assistance. It may not be a same day appointment, but it will be scheduled as soon as possible for your convenience.
Need Help With Accounting Related Questions
Here at Macy, CPA we enjoy working with our clients and seeing to their most pressing needs. In order to do this in the most effective manner, we do initial up-front interviews and/or consultations to see exactly what you are looking for and if we're the right fit for you. We feel, due to the personal nature of the relationship, we have to be able to meet and exceed your needs.
If you are a small business or individual just moving into the area, please consider checking us out to see if we're the right firm for you.
Feel free to contact us via phone at
(727) 544-8875 or via email by
filling out the form to the right.
[si-contact-form form='4']