Accounting Firm – Clearwater, FL
Looking For A Local Accounting Firm That Can Handle Your Specific Needs?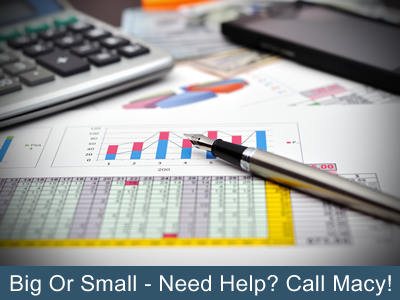 Clearwater, Florida is home to many different organizations, and some of who provide multinational services that everyone appreciates. In fact, films are filmed in Clearwater, and the agencies that provide services to produce those films are often contracted from the Clearwater populace. Many of those companies use Macy, CPA or other accounting firms to manage their financial books. Why is this an issue that you should concern yourself with? Well, to start with a little bit of bragging probably isn't a terrible thing, as it allows our prospective clients to know what our credentials are. The flip side to this is that doing so demonstrates that we work with companies in different spheres of business as well as size in terms of financial production. We do not discriminate against any prospective client as long as they can afford our accounting firm's rates.
In the event that you cannot handle our accounting firm's rates, then we are happy to suggest a number of other very reasonably priced options for you. We work with CPAs across the Tampa Bay area to help, not only our clients, but everyone who needs assistance to obtain their financial security. If you are unable to file your own taxes, do not know how to process different contracts or employment forms, then using an accounting firm will save you lots of time and stress. If you want someone to manage your finances and develop your income portfolio, an accountant can help. And that is exactly what we do for all our clients.
Need Help With Accounting Related Questions
Macy, CPA is only one of the accounting firms available to you in this area. Being here for over 30 years, we have worked with a vast array of clients from all walks of life. We've dealt with large multi-national firms as well as mom and pop organizations and we have the range of services each needs.
We'd be glad to sit down with you and go over what we offer and see if it's a good fit – for both of us.
Feel free to contact us via phone at
(727) 544-8875 or via email by
filling out the form to the right.
[si-contact-form form='4']